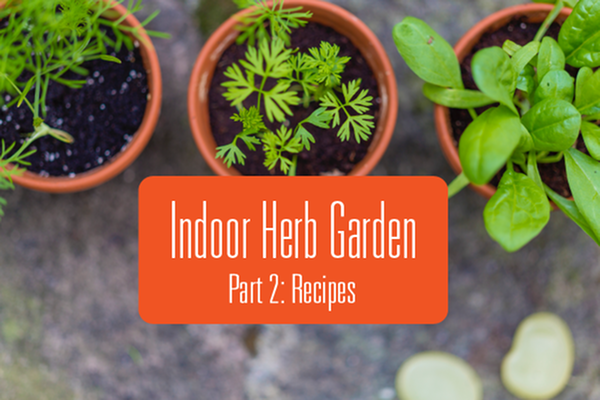 Last week our friends at the U of I taught us how to grow herbs indoors. Now they're back with some tasty recipes to try using those freshly grown herbs!

First of all,check out this blog post from the University of Illinois Extension on seasoning food with fresh herbs. They'll also teach you some handy herb/vegetable pairings, how to convert recipes calling for dry herbs to fresh herbs, and how to tell if your herbs are old.

Subbing Fresh Herbs for Dried:

According to the U of I Extension, you will typically need 3x the amount of fresh herbs as you do dry. For example, a recipe calling for 1 teaspoon of dried parsley would need 1 tablespoon of fresh parsley.

Now that we know a little more about cooking with fresh herbs, let's try out some recipes! All of these were provided by Maggie Furr, of the University of Illinois' Metropolitan Food and Environmental Systems program who has been helping us plan our super cool Urban Farming project.

Here are the recipes she's pulled together for us:
Tomato Basil Soup
2 1/4 lbs Roma tomatoes and 1 1/4 lbs Cherry tomatoes
4 1/2 Tbsp olive oil
Salt and freshly ground black pepper
8 cloves garlic, peeled and left whole
2 small yellow onions, sliced just under 1/2-inch thick
2 cups (32g) lightly packed fresh basil leaves
4 – 5 cups low-sodium vegetable broth
Preheat oven to 425 degrees. Place tomatoes on a rimmed baking sheet and toss with 3 Tbsp olive oil then season with salt and pepper (place Roma halves cut side upright).
Place onion slices and garlic on a rimmed half sheet and toss brush with remaining 1 1/2 Tbsp olive oil on all sides, sprinkle with salt and pepper.
Place baking sheet with tomatoes and half sheet with onions in the oven side by side and roast onions 30 - 35 minutes until edges are golden, and tomatoes 40 - 45 minutes until golden.
Peel away any burnt papery layers of onions if there are any. Pull peels from tomatoes.
Pour onions and tomatoes into a large pot. Add 4 cups vegetable broth and the basil. Season with salt and pepper to taste.
vegetable broth to thin as desired.
Blend soup with an immersion blender or in small batches in a blender (only fill blender half full and remove center insert and cover with a kitchen towel). Serve warm topped with grilled cheese croutons if desired.
Oregano Lemon Chicken and Potatoes
CHICKEN
1 1/2 lbs chicken breasts, boneless, skinless, cut into 1-inch pieces
1 1/2 tbsp olive or avocado oil
1/4 tsp salt
1/4 tsp pepper
POTATOES
1 tbsp olive or avocado oil
1 lb white potatoes, halved
1/2 cup chicken stock
2 1/2 tbsp lemon juice
1 tsp garlic, minced
3/4 tsp salt
1/2 tsp onion powder
1 tsp dried thyme
1 tsp dried parsley
1 tbsp fresh oregano
Add 1 1/2 tablespoon oil to a large skillet. Heat on medium high. Once the pan is hot, add your chicken. Salt and pepper. Sauté for 3 to 4 minutes uncovered, flipping occasionally. Chicken should have some browning but should not be cooked through. Remove from skillet and set aside.
Add the remaining tablespoon of oil to the skillet. Now add potatoes and saute, stirring occasionally, for 10 minutes or until outside of potatoes are browned. Potatoes shouldn't be cooked through quite yet.
Reduce heat to medium. Add chicken back to skillet along with the chicken stock, lemon juice, and minced garlic. Sprinkle with salt, onion powder, dried thyme, and dried parsley. Stir. Cover. Simmer for 5 to 7 minutes or until potatoes and chicken are cooked through.
Taste. Add more salt or lemon juice if desired. Stir in fresh oregano and serve.
Cream Cheese, Tomato and Chives Omelette
2 eggs
1 tablespoon milk
salt and ground black pepper to taste
3 tablespoons cream cheese, softened
2 tablespoons seeded and diced tomato
1 tablespoon chopped fresh chives
Whisk eggs, milk, salt, and pepper together in a bowl.
Heat a 6-inch nonstick skillet over medium heat; pour egg mixture into the hot skillet, tilting so egg mixture covers the entire bottom of the skillet. Slowly cook egg mixture until set, 5 to 10 minutes.
Arrange small dollops of cream cheese onto half the omelet; sprinkle tomato and chives over cream cheese. Fold omelet in half over the fillings. Remove skillet from heat and cover until cream cheese has softened, 2 to 3 minutes.
Chimichurri Sauce
1 bunch flat leaf parsley (or cilantro parsley mix) - leaves only
2 tbsp oregano fresh leaves
1 lime - juiced ( or 2 tbsp red wine vinegar)
1/2 cup extra virgin olive oil
4 cloves garlic -grated
1/2 chili pepper - optional
1 pinch red pepper flakes
1 pinch sea salt - to your taste
Add the parsley, oregano, olive oil, chili pepper and lime juice or vinegar to the bowl of a food processor or blender. Process until combined and smooth to your liking. (Alternatively use a sharp knife and chop the herbs on a cutting board)
Transfer the sauce to a bowl or a jar and stir in the grated garlic and red pepper flakes. Season to your taste with the sea salt and more lime.
Store in the refrigerator in a tightly closed jar / container for up to 10 ways or freeze for later use.