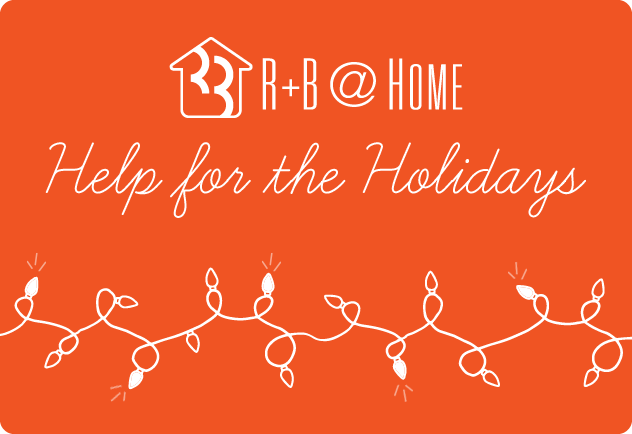 THIS JUST IN: Santa's Elves are Overloaded this Year
If Santa delivered gifts that need to be assembled, installed, or wrapped before Christmas (or after), or if you need help getting your home ready for the holidays, we want to offer our R+B@Home Elves* to help you get the job done! R+B@Home Elves here to help with anything you might need.

Not sure what our elves can do for you? Here are some ways we may be of help:
Gift Wrapping - $25/hr
For the holidays we are now offering gift wrapping! Have all of your gifts wrapped beautifully by R+B@Home staff! This service costs $25/hour with a 1 hour minimum. Wrapped gifts can be picked up within 48 hours. (subject to change if demand is high)

Grocery Pickup - $12.50/30 minutes
Let us brave the holiday madness for you! Order your groceries and we will pick them up and deliver them right to your door. We also offer grocery shopping services at $25/hour

Furniture Assembly - $75
We've all been there. No one likes assembling a new dresser or bookshelf, so let us take care of it! Our maintenance staff will come and assemble any common ready to assemble furniture: bed frames; couches; bookshelves; etc.

Wall Hangings
Trying to spruce things up for the season? Let us help! We can make sure things are hung level and avoid any damage to your walls. Plus we won't charge you for the holes when you move out!

Smart Device Set-Up
Got a new smart device like a smart thermostat or smart lightbulbs and plugs? We can set it up so you can avoid the hassle!

Whatever you might need--just ask!
**R+B@Home Elves are actually human, and can only do so much--services are available while elves have openings.